Jun. 14, 2022
Remember the feeling you had when you picked up your first iPhone? Removing the plastic seal and feeling the smooth white packaging box? By touching the box for the first time, you already felt the importance, quality, and significance of the device.
It is clear that packaging plays an important role in the perceived value of a product and overall, the packaging industry really hasn't changed much in the last few years compared to the constant innovation in portable technology. With all the packaging and box options available on the market today, it can often be difficult to choose the most appropriate packaging solution for your product. Let's take a look at some of the different types of packaging options you can use to enhance your product and customer experience!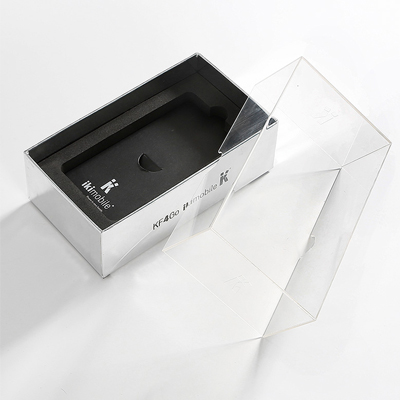 Mobile Phone Packaging
Cardboard boxes
Cardboard is a lightweight but strong paper-based packaging material. It can be easily cut and manipulated to create custom shapes and structures. These properties make it ideal for personalized packaging. It is made by turning fibrous material from wood or recycled waste paper into pulp, which is then bleached. Cardboard packaging is available in a variety of grades, each suitable for different packaging requirements.
SBS (or solid bleached sulfate) paperboard can be used for packaging cosmetics, pharmaceuticals, milk and juice, toiletries, frozen foods, and more. Select Kraft or CUK (Coated Unbleached Kraft) board packaging is suitable for those who prefer the natural and environmentally friendly look of recycled paper for similar packaging applications. Kraft paper is generally considered to be less resistant to moisture and therefore less suitable for food-related products or frozen food packaging. With the right combination of design options, cardboard packaging can look high-end without the need for high-end pricing. Shop for our customized packaging boxes, welcome to contact us today or request a quote.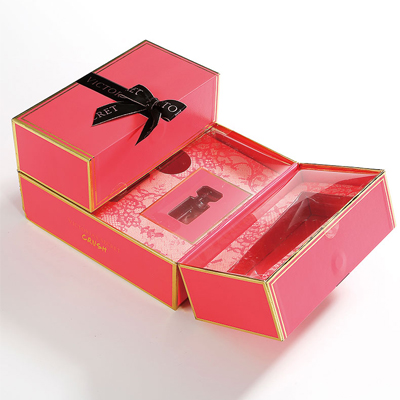 Victoria's Secret Packaging
Corrugated cardboard
Corrugated boxes simply refer to what is commonly known as cardboard. Many people may think of corrugated cardboard as 'cardboard' because it produces large shipping boxes, shoe boxes, and storage boxes. What many people don't realize is that there are different types of corrugated boxes, depending on the durability and strength of the box. However, it is easy to identify a certain corrugated material. How do you identify the material? By its corrugated medium (also known as fluting). Identifying corrugated material is easy. It consists of 3 layers of paper, an outer liner, an inner liner, and a corrugated medium (also known as a corrugated board). The corrugated medium gives it its strength and stiffness.
The main raw material used to manufacture corrugated boards is mostly recycled paper, manufactured by large, high-precision machines called corrugators. These types of cardboard can be reused and recycled again and again as a source of pulp fibers. There are different types of corrugated boards, single-sided, double-sided (single-walled), double-walled and triple walled. They can be used to make packaging with different characteristics, properties, and strengths. The cardboard is cut and folded into different sizes and shapes to become corrugated packaging. Other applications for corrugated board packaging include retail packaging, pizza takeaway boxes, small consumer goods packaging, etc.
Find a professional packaging boxes supplier
RX Packaging, the industry leader, provides global product development, design, sourcing, manufacturing, and logistics. We are a one-stop shop for packaging services, from design, procurement, production, and logistics to the creation of new products. We specialize in high-quality custom products including gift boxes, cosmetic boxes, wine boxes, chocolate boxes, tobacco, and electronic packaging, rigid boxes, folding boxes, colorful boxes, paper bags, hang tags, paper cards, etc. If you want to know more information about customized packaging boxes wholesale, welcome to contact us.